EDUCATIONAL
In addition to providing educational visits adapted to the different age groups and characteristics of the groups, the Atkinson Museum has been establishing important partnerships, namely with the University of Porto, involving its students in different projects, such as the development of GIFs (Digital Art) or the transformation of public space, connecting the cities of Porto and Gaia through seven different artistic installations, inspired by the works that will be present in the exhibition "The Dynamic Eye", and that will create a path to the Atkinson. We also have a workshop taught by Joana de Abreu, founder of the project "Preencher Vazios". The aim of this workshop will be to create tiles from the illustrations previously developed by university students in combination with phrases from the artists represented in the exhibition.
PILLARS
– CULTURE
– SOCIAL COMMITMENT
– EDUCATION AND TRAINING
– PARTNERSHIPS WITH UNIVERSITIES
– DEVELOPMENT OF ARTISTIC PROJECTS
GUIDED TOURS
– PRE-SCHOOL AND 1ST YEARS
– 2ND AND 3RD YEARS
– SECONDARY EDUCATION, VOCATIONAL
HIGHER EDUCATION AND ADULT TRAINING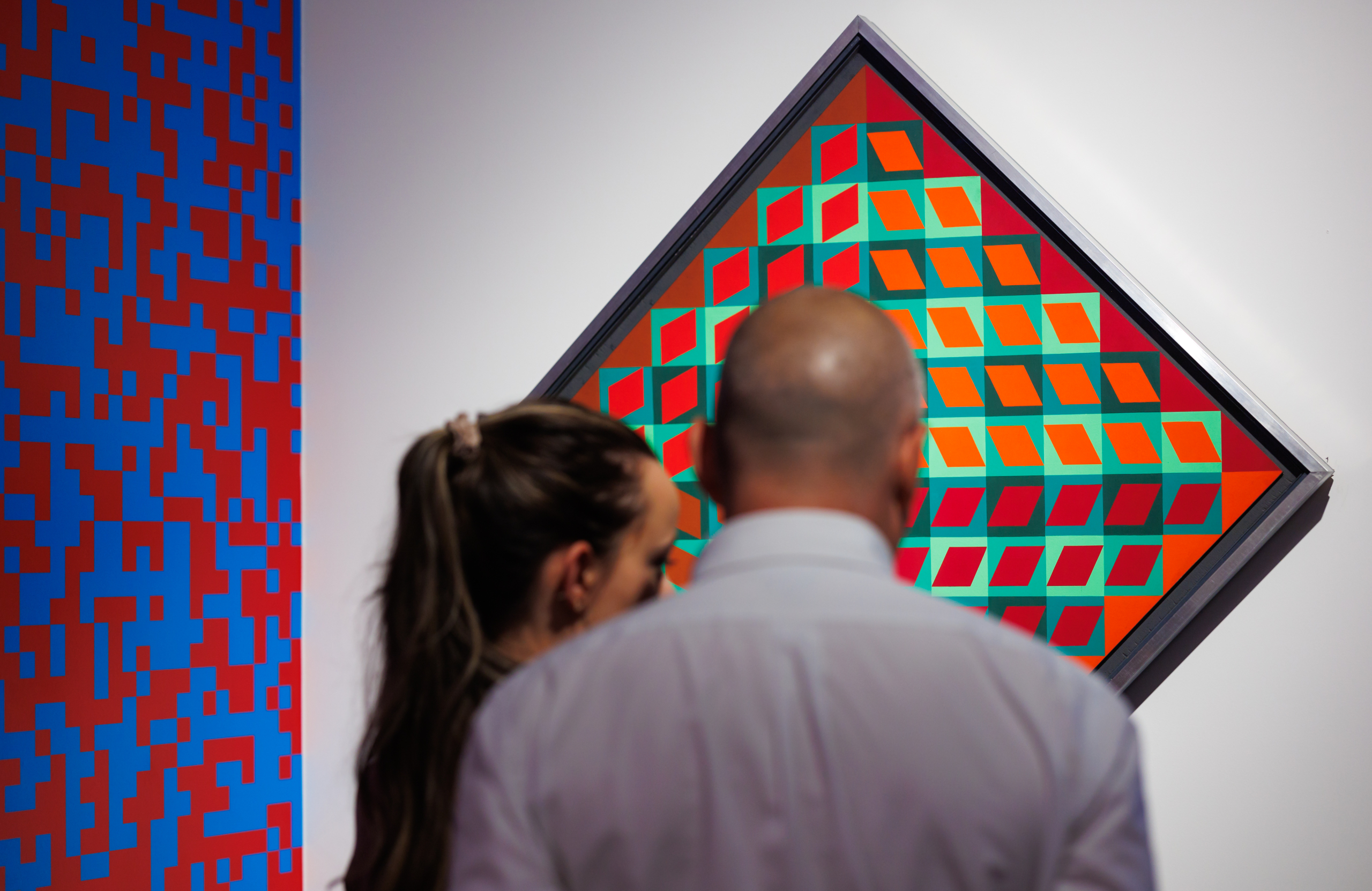 KINETIC ART
The term "kinetic" is related to MOVEMENT. Unlike painters and sculptors, kinetic artists make everything MOVE (for real!). The work shown in the image, ANTENNAE WITH RED AND BLUE DOTS (1970) by Alexander Calder, moves only with the wind, but there are other works of this artistic current that depend on the use of motor and other mechanisms. The intention is to provoke different perceptions with each look.
MAIN CHARACTERISTICS OF KINETIC ART
– ABSTRACT STYLE
– CONTRAST OF COLOURS
– GEOMETRIC SHAPES AND LINES
– MECHANICAL MOVEMENTS
– SENSORY PERCEPTION
– ACTIVE OBSERVER
OP ART
After looking for a few seconds at SUPERNOVAE (1959-61) by artist Victor Vasarely, you might see everything blinking! It might be a GIF, but it's a work of OP ART from the 1960s! Optical Art is an art movement that takes advantage of the miscommunication between the eye (the organ that sees) and the brain (the organ that interprets information); the result is so-called optical illusions. Artists use science and the combination of different techniques to make us believe that the works move.
MAIN CHARACTERISTICS OF THE MOVEMENT
– ABSTRACT STYLE
– CONTRAST OF COLOURS
– GEOMETRIC SHAPES AND LINES
– OPTICAL AND VISUAL EFFECTS (MOVEMENTS)
– ACTIVE OBSERVER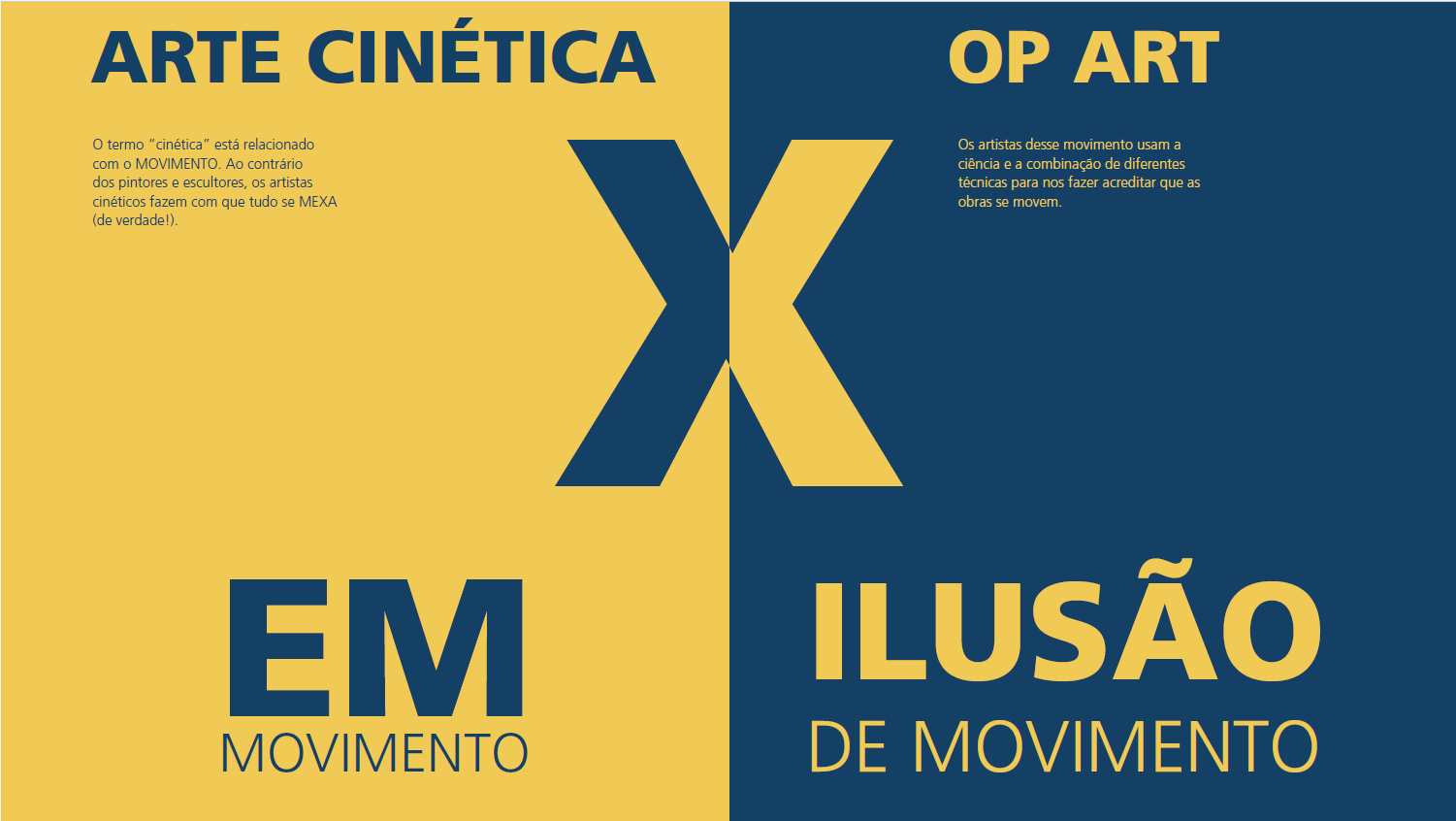 DO WE BOOK A VISIT?
– GUIDED TOUR
10,00€ / Student
– GUIDED VISIT + LUNCH (PIP PIZZAS + drink)
22,00€ / Student
– GUIDED TOUR + WORKSHOP "FILL IN THE GAPS"
25,00€ / Student (20 Students – Capacity required to run the Workshop)
GERAL@ATKINSONMUSEUM.COM
– Entrance fee for 1 accompanying teacher/adult for every 10 students participating in the visit. The amount to be charged to the extra accompanying adults is the amount applicable to the rest of the group.
– Lunch (Pizza PIP) includes: Pizza Margheritta (individual) or Pizza Pepperonni (individual) + Capsule drink (coca-cola or water).
– Workshop "Filling Empties" by appointment only
GENERAL INFORMATION
ADDRESS:
Rua do Choupelo, 132
Vila Nova de Gaia
Portugal
ON DISPLAY FROM: 04.07.2023 – 29.10.23
DURATION OF VISIT: 60 Minutes
OPENING HOURS:
EXHIBITIONS: 10:00 – 19:00 (Last entry at 18:00)
BOX OFFICE: 10:00 – 18:00
We look forward to hearing from you!
GERAL@ATKINSONMUSEUM.COM